Home * Bears * Memory Bears * Gallery * Pet Bears * Birth Announcement Bears * Biker Bears * Book *

Testimonials * Order * Contact * About Us * FAQ




Orders can be paid for by check, money order or through PayPal, which allows you to use a credit card.

International orders must be handled via money order or through PayPal.

Several of you have written to ask for more information, and step one is for me to clarify this page a bit better! Some questions are answered on the

FAQ page, but here is the short version followed by more details below! [Measurements are STANDING and accurate for the pattern. Variations in fabric & stretch can result in a variation in actual measure but all are cut from the same pattern.]

** 1 16" bear, made from your garment, start at

$59.95. [Leather or something else unusual, contact us]

** 1 12" bear,

$49.95

** Ship materials to

: Denise Fields ~ Bellybutton Bears LLC 10299 E Evans Creek Road Rogue River, OR 97537

** IMPORTANT NOTE; These bears are NOT meant to be toys for young children.

** Memory vest [including photo] or any added hat, pants etc start at $5.95

** To have a photo printed anywhere else on the bear other than a vest $5.95

** Shipping will vary, depending on location, number of bears and amount of leftover fabric to return.

** Payment may be made by check or money order or via Paypal.

** Email me at

bellybuttonbears@charter.net with ANY questions, or call

**

Denise Fields ~ Bellybutton Bears LLC

10299 E Evans Creek Road Rogue River, OR 97537

That was the short and fast explanation! For a few more details, read below, check the

FAQ page and email me!

Put a

Bellybutton Bear in your family tree! Do you have fabric left from a favorite outfit when your child was small? Perhaps the garment itself? Why keep it tucked away in a drawer or box? We can turn this into a lasting memento that can be displayed in any room. Don't have a garment or fabric? No problem, we can find the right material for YOUR bear. Address to mail fabric to is at page bottom.

An Original Bellybutton, [approximately 16"] including the introduction and personalization

$59.95

To ADD a memory vest to your bear, you will need to let me know and add $5.95 to your order total.

Slightly smaller, approximately 12" and perfect if you are a bit short on fabric, $49.95 ~

email me!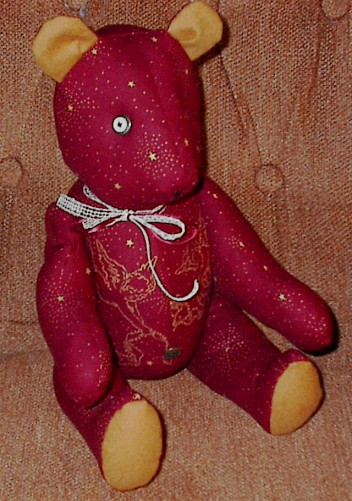 The Bellybutton Legend

~~~ $9.95

Bellybutton

cousins live in many private homes, as well as a bed and breakfast in Oregon, an Army Captain's office in West Virginia and one with a view of the bay in Sydney, Australia! Bellybuttons have moved to Florida, Tennessee, Arizona, California, England and Russia in recent months. We can match a member of the Bellybutton clan to your family or a friend of yours. Just give us some personality clues and a very special Bellybutton will be designed per your order. Click on the bears to see our Gallery; most of these bears have families but it will give you some idea of how yours might look.

Remember, all

Bellybutton Bears are original, never are two identical, unless *you* request it! As in all families, similarities may crop up now and then -- they *all* have bellybuttons!! We can work with any fabric you wish, or select something appropriate to the personality clues you give us.
All

Bellybuttons come with a paper hang tag and a line or two about the individual bear. You can choose a photo to have on the tag, or special wording or leave it to us. Want more? We can provide you with a copy of the Bellybutton Legend! Don't you want to know WHY they have their bellybutton?? DON'T WAIT, put a Bellybutton in your family tree!

Please email us with any questions, or discussion about what you want in YOUR bear. We will get right back to you with any questions we might have regarding your unique Memory Bear. We offer the quickness and convenience of e-mail for your requests, and the safety and security of real mail for your payment. OR... you can use PayPal [email me for directions at Bellybuttonbears@charter.net. Whichever payment method you choose, we still want to exchange emails so YOUR memory bear will be special.

An Original Bellybutton, including the introduction and personalization $59.95
To ADD a memory vest to your bear, add $5.95 to your order total for each vest.

The Bellybutton Legend ~~~ $9.95

*** Send Check or money order to: Denise Fields ~ Bellybutton Bears LLC

10299 E Evans Creek Road Rogue River, OR 97537

*** You may also use PAYPAL with email dfields75@charter.net

For help, email:
bellybuttonbears@charter.net
Home * Bears * Memory Bears * Gallery * Pet Bears * Birth Announcement Bears * Biker Bears * Book *
Testimonials * Order * Contact * About Us * FAQ
Ó Bellybutton Bears LLC 2012